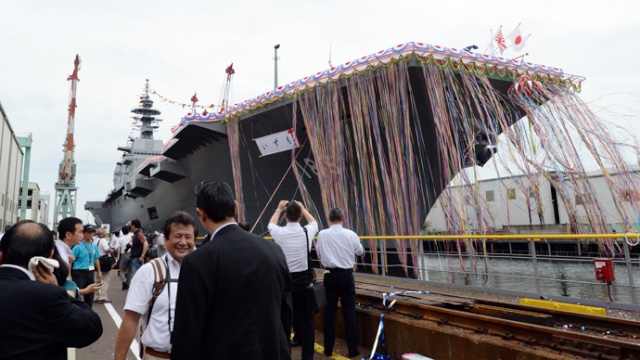 Amid increasing tensions with China over some disputed islands, Japan unveils a warship that could double as an aircraft carrier.
Japan has unveiled its biggest warship since World War II, a huge flat-top helicopter carrier.
The ship is the largest surface combatant of the Japanese Navy and has raised eyebrows in China and elsewhere because it bears a strong resemblance to a conventional aircraft carrier.
The Izumo, which has a flight deck that is nearly 250 metres (820ft feet) long, is designed to carry up to 14 helicopters.
Japanese officials say it will be used in national defence - particularly in anti-submarine warfare and border-area surveillance missions.
The ship can carry up to 14 helicopters,It will also be used to bolster the nation's ability to transport personnel and supplies in response to large-scale natural disasters, like the devastating earthquake and tsunami in 2011.
Although the Izumo has been in the works since 2009, its unveiling comes as Japan and China are locked in a dispute over several small islands located between southern Japan and Taiwan.
For months, ships from both countries have been conducting patrols around the isles, called the Senkaku in Japan and the Diaoyutai in China.
A member of Japan's Maritime Self-Defense Force looks at its new helicopter destroyer DDH183 Izumo before its launching ceremony in Yokohama A sailor looks on with a smile at the launch of the warship
The tensions over the islands, along with China's heavy spending on defence and military modernisation, have heightened calls in Japan for improved naval and air forces.
China recently began operating an aircraft carrier that it refurbished after buying it from Russia and is reportedly planning to build another one itself.
Japan, China and Taiwan all claim the islands.
Japan Maritime Self-Defense Force'S new helicopter destroyer Izumo is seen before its launching ceremony in Yokohama The warship seen before the launching ceremony in Yokohama, south of Tokyo
Some experts believe the new Japanese helicopter carrier could be used to launch fighter jets or other aircraft that have the ability to take off vertically.
That would be a departure for Japan, which has one of the best-equipped and best-trained naval forces in the Pacific, but which has not sought to build aircraft carriers of its own because of constitutional restrictions that limit its military forces to a defensive role.Japan has one of the best-equipped navies in the Pacific
Japan says it has no plans to use the ship in that manner.
The Izumo does not have catapults for launching fighters, nor does it have a "ski-jump" ramp on its flight deck for launching fixed-wing aircraft that have a short take-off capability.
There are suggestions the ship could be converted into an aircraft carrier
http://news.sky.com/story/1125173/japan-unveils-largest-warship-since-wwii