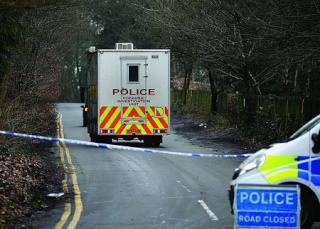 Russian Man Arrested For Stealing Entire Road
The 40-year-old faces a prison sentence after dismantling a road and being caught driving away with the pieces by police.
10:55am UK, Monday 05 August 2013
Road in Komi Republic, Russia
The man stole slabs from a road in the Komi Republic   
A man has been arrested after apparently stealing a complete stretch of road in a remote area of Russia.
The man stole 82 reinforced concrete slabs that formed the route from the village of Parcheg in the republic of Komi to the Vychegda River, the RIA Novosti news agency reported.
It is thought he used an industrial manipulator - a machine that is both a bulldozer and forklift - to dismantle the slabs.
The pieces of road were then loaded onto three trucks which were later intercepted by police.
The stolen slabs were worth about 200,000 rubles (£4,000), according to Russia's Interior Ministry.
Parcheg, Russia The road linked the small town of Parcheg to the Vychegda River
The chief suspect, a 40-year-old resident of Syktyvkar, the capital city of the northern republic, is said to have admitted his guilt.
He now faces up to two years in prison for theft.
There have been a spate of infrastructure robberies in Russia in recent times.
In June, another man is reported to have dismantled a bridge over the Nozma River in the village of Frolovo with a welding torch.
On that occasion, a trail of tractor tracks led police to the culprit's home. He also faces a possible two-year jail  term.
http://news.sky.com/story/1124691/russian-man-arrested-for-stealing-entire-road